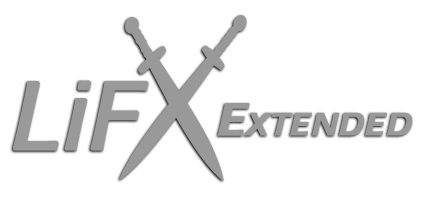 Life is Feudal: Extended (LiFx)
All the documentation you need to make your mods compatible with the LiFx framework. This resource is primarily for developers and server owners.
Download server framework Get YoLauncher
---
Getting started creating server mods
Dependencies
Getting started creating client mods
Developer dependencies
Bootstrap project
Client dependencies
Every client will be dependent on YoLauncher for LiFx compatible client mods.
---
About the project
A framework for making mods to Life is Feudal: Your Own.
The client framework is requires the use of YoLauncher.
The server framework is standalone.
License
Life is Feudal: Extended (LiFx) is distributed by a GPL 3.0 license.
Credits
Mjoed LiF: Extended
Nyuton of feudal.tools and join venture YoLauncher
Notable contributors
Ebhe (our moderator)
Ulrik
Johnny
Ibun (of Viking Gaming)
Basil of BasilMod
Skunk of SF Mod
Kurai Seraph
Zbig for the initial implementation of the wood cart as a seperate harnessable cart.
Joseantime for old site contributions
Pabluuz for old site contributions
laze for translation to French
The community overall
---